Het is alweer een aantal maanden lente. Ik heb daar in de winter echt enorm naar uitgekeken. Het is mijn favoriete seizoen. Niet te warm en niet te koud. Daarnaast is dit seizoen ook voor boeken altijd een mooie periode. Er komen namelijk veel nieuwe boeken uit in de lente. Het leek me daarom leuk om de boeken te delen die ik deze lente wil gaan lezen.
9 Days & 9 Nights van Katie Cotugno – 1 mei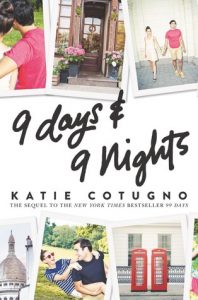 Molly Barlow isn't that girl anymore. A business major at her college in Boston, she's reinvented herself after everything that went down a year ago . . . after all the people she hurt and the family she tore apart.
Slowly, life is getting back to normal. Molly has just said "I love you" to her new boyfriend, Ian, and they are off on a romantic European vacation together, starting with scenic London. But there on a Tube platform, the past catches up to her in the form of Gabe, her ex, traveling on his own parallel vacation with new girlfriend Sadie.
After comparing itineraries, Ian ends up extending an invite for Gabe and Sadie to join them on the next leg of their trip, to Ireland. Sadie, who's dying to go there, jumps at the prospect. And Molly and Gabe can't bring themselves to tell the truth about who they once were to each other to their new significant others.
Now Molly has to spend nine days and nine nights with the boy she once loved, the boy whose heart she shredded, without Ian knowing. Will she make it through as new, improved Molly, or will everything that happened between her and Gabe come rushing back?
Onlangs las ik 99 Days van Katie Cotugno. En ondanks dat ik niet al te enthousiaste reviews heb gelezen, keek ik toch erg uit naar dit boek. Het las heel makkelijk weg en is origineel geschreven. Elk hoofdstuk bestaat namelijk uit een dag. Je leest dus 99 hoofdstukken. Ik gaf dit boek 4.5 sterren en mijn review kun je hier lezen. Deze maand is het vervolg 9 Days & 9 Nights uitgekomen. Ik ben hier net in begonnen, dus ik kan er nog niet heel veel over vertellen. Maar een review volgt snel!
Always Never Yours van Emily Wibberley – 22 mei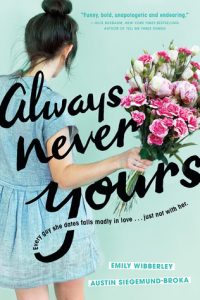 Megan Harper is the girl before. All her exes find their one true love right after dating her. It's not a curse or anything, it's just the way things are, and Megan refuses to waste time feeling sorry for herself. Instead, she focuses on pursuing her next fling, directing theatre, and fulfilling her dream school's acting requirement in the smallest role possible.
But her plans quickly crumble when she's cast as none other than Juliet–yes, that Juliet–in her high school's production. It's a nightmare. No–a disaster. Megan's not an actress and she's certainly not a Juliet. Then she meets Owen Okita, an aspiring playwright who agrees to help Megan catch the eye of a sexy stagehand in exchange for help writing his new script.
Between rehearsals and contending with her divided family, Megan begins to notice Owen–thoughtful, unconventional, and utterly unlike her exes, and wonders: shouldn't a girl get to play the lead in her own love story?
Ik kwam dit boek tegen op Booktube en wist eigenlijk meteen dat deze op mijn TBR zou komen. Het klinkt als een soort retelling van Romeo en Juliet. En laat ik daar nou net zin in hebben. 🙂
The Way You Make Me Feel van Maurene Goo – 8 mei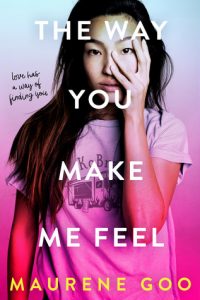 Clara Shin lives for pranks and disruption. When she takes one joke too far, her dad sentences her to a summer working on his food truck, the KoBra, alongside her uptight classmate Rose Carver. Not the carefree summer Clara had imagined. But maybe Rose isn't so bad. Maybe the boy named Hamlet (yes, Hamlet) crushing on her is pretty cute. Maybe Clara actually feels invested in her dad's business. What if taking this summer seriously means that Clara has to leave her old self behind?
With Maurene Goo's signature warmth and humor, The Way You Make Me Feel is a relatable story of falling in love and finding yourself in the places you'd never thought to look.
Dit boek viel eigenlijk meteen op door de cover. Het is niet perse een onwijs mooie cover, maar toch trok hij me. Na de synopsis gelezen te hebben, kan ik niet wachten om dit boek te lezen. Het klinkt als een heerlijk boek om buiten in de zon te lezen!
Starry Eyes van Jenn Bennett – 8 mei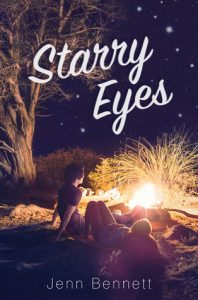 Ever since last year's homecoming dance, best friends-turned-best enemies Zorie and Lennon have made an art of avoiding each other. It doesn't hurt that their families are the modern day, Californian version of the Montagues and Capulets.
But when a group camping trip goes south, Zorie and Lennon find themselves stranded in the wilderness. Alone. Together.
What could go wrong?
With no one but each other for company, Zorie and Lennon have no choice but to hash out their issues via witty jabs and insults as they try to make their way to safety. But fighting each other while also fighting off the forces of nature makes getting out of the woods in one piece less and less likely.
And as the two travel deeper into Northern California's rugged backcountry, secrets and hidden feelings surface. But can Zorie and Lennon's rekindled connection survive out in the real world? Or was it just a result of the fresh forest air and the magic of the twinkling stars?
Ook in dit verhaal komt iets van Romeo en Juliet terug. Ik zit helemaal in die vibe en schreef dus ook Starry Eyes op mijn TBR lijst. Heather van Bookables vertelde hierover op Booktube. Mocht je haar nog niet volgen, ga dit dan vooral doen. Ze is één van mijn favo booktubers.
Love & Luck van Jenna Evans Welch – 8 mei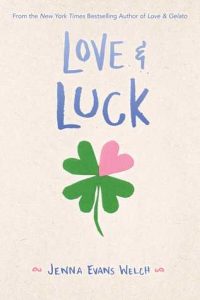 Addie is visiting Ireland for her aunt's over-the-top destination wedding, and hoping she can stop thinking about the one horrible thing she did that left her miserable and heartbroken—and threatens her future. But her brother, Ian, isn't about to let her forget, and his constant needling leads to arguments and even a fistfight between the two once inseparable siblings. Miserable, Addie can't wait to visit her friend in Italy and leave her brother—and her problems—behind.
So when Addie discovers an unusual guidebook, Ireland for the Heartbroken, hidden in the dusty shelves of the hotel library, she's able to finally escape her anxious mind and Ian's criticism.
And then their travel plans change. Suddenly Addie finds herself on a whirlwind tour of the Emerald Isle, trapped in the world's smallest vehicle with Ian and his admittedly cute, Irish-accented friend Rowan. As the trio journeys over breathtaking green hills, past countless castles, and through a number of fairy-tale forests, Addie hopes her guidebook will heal not only her broken heart, but also her shattered relationship with her brother.
That is if they don't get completely lost along the way.
Vorig jaar las ik Liefde & Gelato van Jenna Evans Welch. Dit was echt het ultieme zomerboek van 2017. M'n review van dit boek kun je hier lezen. Deze maand komt het tweede deel Love & Luck uit. In deel twee volgen we Addie, de beste vriendin van Lina die we in Liefde & Gelato volgde. Ik hoop dat dit boek weer net zo'n summer vibe geeft!
Conclusie
Grappig. Alle boeken die ik hierboven noem, zijn boeken die in mei uitkomen. Ik hoop ze ook allemaal deze maand te lezen, maar geen idee of dit gaat lukken. In dit lijstje staan geen fantasy of sci-fi boeken. Die komen natuurlijk wel gewoon uit in de lente, maar ik merk dat ik in dit seizoen toch meer neig naar contemporary. Naar welke boeken kijk jij uit deze maand? Laat het me zeker even weten in de reacties. Misschien voeg ik die dan ook wel toe aan mijn TBR!